Workforce Development Aging and Community Services (WDACS)
Workforce Development Aging and Community Services (WDACS)
WDACS response to the pandemic
Workforce Development, Aging, and Community Services pivoted the Los Angeles County America's Job Centers of California (AJCCs) workforce system to conduct business services outreach efforts through weekly virtual Business Town Halls effective March 26, 2020.  Business Services Representatives at our AJCCs conduct these town halls to accomplish two primary goals, which are 1) to make businesses aware of the services available to businesses through our Los Angeles County AJCC system and 2) make businesses aware of additional tools and resources available to them through partner agencies. 
These goals were specifically established to assist local businesses navigate and pivot to ensure business subsistence during the COVID-19 pandemic.  Topics of our Business Town Halls included information on work-sharing, available funding through loans and grants, commercial leases as it relates to the eviction moratorium, legal implications in returning your workforce, Department of Public Health (DPH) operating protocols, and establishing an online business presence.  Guest speakers presented on behalf of their agencies such as, State Employment Development Department, DPH, employment law firms, Small Business Administration, Consumer and Business Affairs, and Google.  WDACS has conducted a total of 21 Business Town Halls to date, with a total of 1,617 attendees.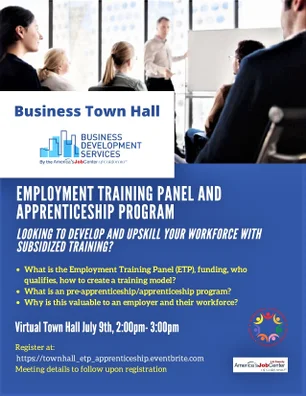 The Disaster Help Center launched on March 26, 2020 as a direct response to assist both employees and business owners navigate the devastating economic impact that the COVID-19 pandemic is having on Los Angeles County. Departments came together to design and launch a virtual help center, a comprehensive website, email response and 100% remotely operated call center.  The call center assists with many resources and information on available grants, loans, Unemployment Insurance, CARES Act, and eviction moratorium.
The Disaster Help Center is a collaboration between the Department of Workforce Development, Aging and Community Services (WDACS) and the Department of Consumer and Business Affairs (DCBA).  The Center is staffed by Disaster Service Workers from the LA County America's Job Center of California, DCBA, WDACS, Treasurer & Tax Collector, Libraries, and Parks and Recreation.  To date, the Disaster Help Center has directly assisted over 15,500 callers.  https://lacountyhelpcenter.org/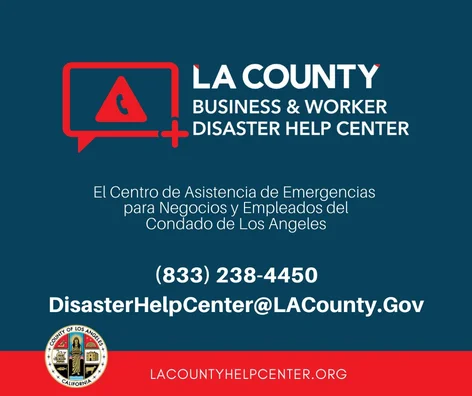 Employer Assistance Grant Fund
On April 9, 2020, the Los Angeles County Department of Workforce Development, Aging and Community Services (WDACS) launched the Los Angeles County Employer Assistance Grant Fund to provide grants up to $10,000 to local businesses to help support them through the COVID-19 pandemic.  WDACS worked with the State of California and Federal Department of Labor to launch a first-in-the-state program to quickly meet the needs of our small businesses.
With grant funding received from the State Employment Development Department, and in partnership with the Roberts Enterprise Development Fund, WDACS awarded $500,000 to 59 local entities, ranging from local small businesses, non-profits, and social enterprises impacted by the coronavirus pandemic. Thirty-nine of the businesses that received awards were minority-, women-, and/or Veteran-owned and a wide range of industries were represented, including Hospitality, Travel, Entertainment, Professional Services, Education, Technology, Legal, Environment, Healthcare and Non-profits. The fund disbursement averted 311 layoffs and retained over $1.5 million in revenue for awarded businesses.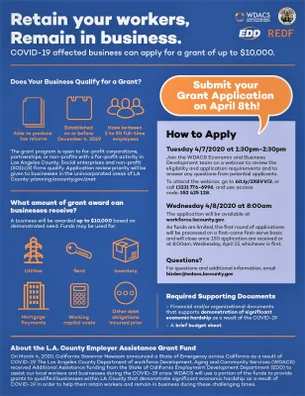 ---
Northrop Grumman Virtual Recruitment
Los Angeles County Workforce Development, Aging and Community Services (WDACS) has enjoyed a very strong partnership with Northrop Grumman (NGC) over the last few years. This partnership has created opportunities for thousands of local residents to secure high-paying jobs in the Aerospace industry. Just as the COVID-19 pandemic struck, WDACS and Northrop were in the process of setting up several large recruitments to meet the immediate employment demands at NGC. With face-to-face meetings being off the table due to the statewide shutdown orders, the WDACS team had to pivot its approach to meet the needs of NGC.
In collaboration with NGC, LA County WDACS and the America's Job Center of California (AJCC) system, the hiring process was shifted to a completely virtual system.  The AJCCs virtually pre-screened 1,742 people.  A total of 474 people were interviewed, with 362 being hired by NGC.  A total of 69 Veterans were hired through this process. The average starting wage for these new hires is $22.50 per hour.  The team at WDACS have since worked with the NGC and AJCC partners to execute a Veterans-focused recruitment the week of July 27, 2020 prescreening over 150 Veterans with a ultimate goal of hiring 100 applicants from this event.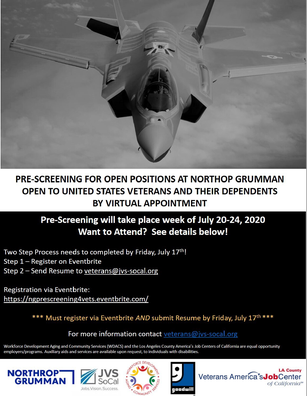 ---
Virtual AJCC Resource Room
On April 1, 2020, the Virtual Resource Room (bit.ly/lac2work) was launched on our website, providing links to job search, online education, and community resources related to housing, transportation, and more for job seekers.  Businesses can also find items such as the Business Solutions Portfolio, a broad accounting of all business-related resources in the County. Additionally, a comprehensive list of all online training programs is provided, as well as referrals to technology resources such as computers and other information technology.
Customers can also find the mechanisms to connect directly to one of our America's Job Centers of California (AJCCs), and a step-by-step guide on how to begin the application process to enroll into one of our workforce development programs.  Since its inception, the Virtual Resource Room has seen over 4,000 unique visitors.  The transition has been especially smooth – our AJCCs have been paperless for approximately two (2) years, using tools such as document imaging technology and electronic sign-in kiosks. Because of both new and existing avenues, our AJCCs have been able to continue providing the employment and training services to which residents have been accustomed to receiving.