LA County Library
LA County Library
Helping Save Lives: LA County Library PPE Program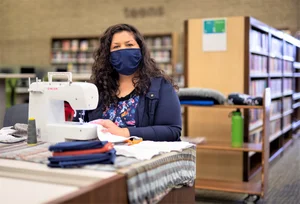 LA County Library staff brought their many skills and talents to the table to provide much needed personal protective equipment (PPE) to assist frontline and essential workers in the wake of COVID-19 when procurement of PPE was especially challenging. A group of 48 staff volunteered to sew  fabric face masks to help protect  LA County Disaster Service Workers and personnel who may not be able to practice physical distancing. Volunteers used their own sewing machines or borrowed machines from Library's MākMō STEAM education maker mobiles.
Staff repurposed fabric from Library's sewing programs and even donated their own supplies, allowing sewing staff to produce over 5,000 masks. Library also formed a partnership with the Department of Health Services and Rancho Los Amigos National Rehabilitation Center to print mask extenders to alleviate ear pain from elastic bands and headbands for plastic face shields, as well as help assemble face shields. With a donation of 3D printers, Library's MākMō, Adult Services, and Facilities teams were able to print 7,922 mask extenders and 1,547 headbands at Carson Library and Library Headquarters. These items were then added to the production line and distributed to healthcare workers in hospitals.
Leading-Edge Library Staff Tap Into Diverse Skills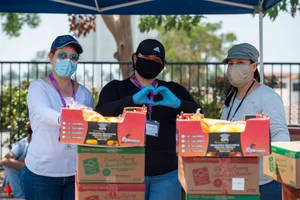 Dedicated to serving County residents, LA County Library staff met the challenges of the pandemic head-on by creatively utilizing their diverse skills to step into new roles. More than 150 Library staff used their finely-honed interpersonal and reference skills to assist with vital Contact Tracing, working to help reduce the spread of the virus.
Several staff assisted individuals experiencing homelessness at Project Roomkey sites and prepared 7,000 care kits for residents, which included access to free Library resources. Multiple Library locations have hosted COVID-19 testing as well as drive-through food distribution events in partnership with the Los Angeles Regional Food Bank, with staff distributing boxes of food to households struggling with food insecurity.
From working at the Department of Consumer & Business Affairs Call Center to providing election assistance to Registrar-Recorder/County Clerk to manufacturing Personal Protective Equipment for essential workers, Library staff met the challenging circumstances brought about by the pandemic by expanding beyond their traditional roles. By adapting their unique skillsets. Library staff have are providing innovative solutions that provide County residents with services that support their needs.
Sidewalk Service: Safe & Contactless Pick-up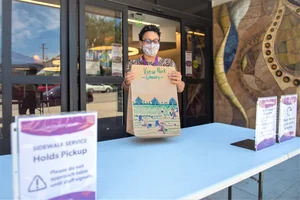 Though libraries are not open to the public, LA County Library is committed to providing essential services for its communities that ensure the health and safety of customers.  In June 2020, the Library began Sidewalk Service, offering contactless holds pickup at 24 locations, with returns available at any Library book drop. In July 2020, the Library expanded the service to 22 additional locations, bringing the total to 46. With Sidewalk Service, customers are able to place holds on physical library materials using the Library's online catalog or by phone.
Once their held items become available, they are notified and able to pick up their materials Monday through Friday, 10am to 5pm. Following recommendations from health and safety officials, the no-contact pick up process allows customers to safely enjoy the Library's catalog of books and movies at home. In just the first 8 weeks of the program, 181,000+ library items were checked out at the 46 Sidewalk Service locations. In an average week, 30,000 holds were circulated as compared to 39,000 in the previous year, so 80% of the business was done out of only 50% of the libraries, indicating a demand for physical materials.  Learn more about Sidewalk Service and see all locations at LACountyLibrary.org/express-service.
Virtual Programs: Opening Library's Digital Doors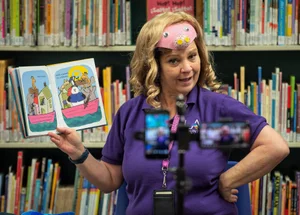 With the closure of all 86 LA County Library locations, the Library turned to digital tools and virtual platforms to continue providing programming to its customers—a service that became imperative due to the Stay at Home orders and school closures. The Library's virtual programming (VP) offers a way for County residents to explore a vast array of topics, learn something new, have fun, and stay connected, all from their homes or on-the-go. Librarians create each program with pathways to Library and County resources, to encourage further engagement and learning.
Virtual Storytime, where librarians share stories, songs, and rhymes, launched on March 18, 2020 and continues to be hosted Monday through Thursday on Facebook. Additional VP was launched on June 16, 2020 and is offered via weekly videos on YouTube and interactive events on WebEx for all ages. Some programs feature well-known authors and professionals, as well as collaborations with other County departments and community organizations. Since launching VP, over 152,000 people have viewed or participated in over 200 programs developed by staff, with more being added daily. Programs are promoted via a weekly email to all 500,000+ customers. For upcoming programs, visit LACountyLibrary.org/virtual-programming.