Internal Services
Internal Services
COVID Special Event Support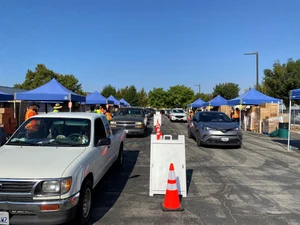 The Internal Service Department (ISD) Special Services team played an integral role in supporting the countywide response to support our community impacted by COVID and the associated economic downturn. Selwyn Hollins, ISD Director, led the commitment for ISD to provide the infrastructure and set up for all the County's COVID testing sites, Food Bank Distribution sites, and Personal Protective Equipment (PPE) Distribution sites since March 2020. Special Services has performed above and beyond normal operations by tapping into their own staffing and leveraging the commitments of contracted event companies to dedicate resources to the County's needs.
Since March 2020, Special Services has facilitated the infrastructure and equipment setup for 9 COVID testing sites that provide services for hundreds of COVID tests on a weekly basis.  They facilitated the setup of infrastructure and equipment for 34 Food Distribution Centers co-sponsored by Board of Supervisors and the Department of Public Social Services to provide food to an average of 6,000 cars daily, with some reaching as high as 10,000.  They also facilitated the setup for 39 PPE Distribution Centers hosted by the Department of Public Health to provide PPE supplies to constituent health care providers such as independent health facilities and nursing homes that face shortfalls in protective equipment.
ISD Custodial COVID Special Cleaning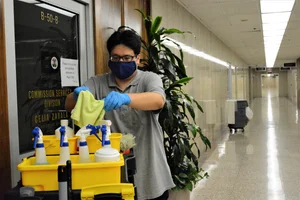 Launched on March 9, 2020 as a proactive action by Selwyn Hollins, Director, Internal Services Department (ISD), Custodial Services established a COVID Special Cleaning program to support County departments in the event of a COVID exposure in one of their buildings.  Selwyn Hollins connected ISD and the Department of Public Health together to collaborate on specific cleaning procedures that met the high standards of the Centers for Disease Control (CDC) nationally.  Since March 9th, ISD has assisted multiple County departments with special cleaning due to possible COVID exposures.
ISD's Custodial Services did this at a high level of performance as well as including a 1-day cycle time average to respond to cleaning requests.  Additionally, the team was proactive to keep costs for the special requests low, and through competitive negotiations with contractors they reduced the cost of COVID related "deep" cleaning by 60%, from $1.64 to $.65 per square foot.  ISD Custodial Services have been tenacious advocates for the safety of County staff by providing COVID cleaning that meets the high standards of the CDC, performing it in a responsive cycle time, and driven to lower the costs of cleaning paid for by our customers.
Virtual Meeting and Remote Public Hearing Platform
In March 2020, Los Angeles County (County) implemented fully remote Board of Supervisors (BOS) meetings, enabling County constituents to access and participate in virtual public meetings while maintaining social distancing. Within a week, the Internal Services Department and the Board of Supervisors Executive Office developed a solution for the Board and their staff to deliver and receive communications to and from a large volume of citizens, integrating WebEx Room Kits and audio Digital Signal Processor to create a fully functional virtual experience.
The platform features simultaneous multi-language translators (Mandarin, Spanish, Korean, and ASL) and functions for vision- and hearing-impaired, making the remote meetings more accessible than ever. Constituents can stream Board Meetings in real time on computers, tablets, or mobile phones. The public can submit questions through a Public Comment Tool, while Board Office staff then track and compile the questions and post them online as public record. During one July 2020 Board meeting, the BOS received and heard approximately 17,000 written questions or comments.  The County can communicate with and receive feedback from constituents and the media during live events through AT&T's "Question and Answers" and pre-conference support sessions, facilitated by professional moderators.